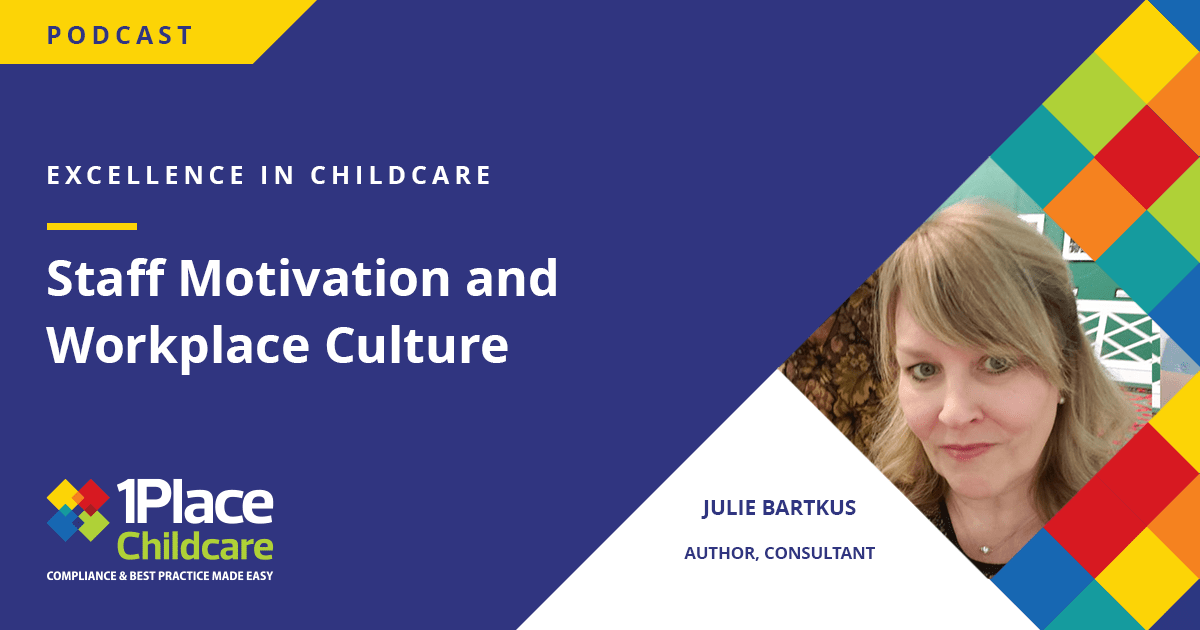 Our topic of staff motivation and workplace culture is presented by author and consultant, Julie Bartkus.
Our Expert Julie Bartkus
Julie is an internationally-known Speaker, Consultant and Coach specializing in helping child care leaders attract, hire, manage, motivate and retain the team of their dreams. She is the author of the best-selling Child Care Business Success Book.
She offers keynote presentations, workshops, team retreats, group coaching programs (Child Care Program of Excellence), private coaching and VIP days.
In this episode we cover
– Factors that contribute to negativity
– Symptoms of a toxic culture
– Actions leaders can take to improve culture
– How to improve quality and standards
A sneak peak inside the episode
"When you opened your center, you thought that it would be like slumber parties and lollipops. I'll never forget those words because it's so impactful. And that's what a lot of leaders are hoping, is that they they create this beautiful business and then we just attract all these amazing people. And it's fun because we're moulding and shaping the lives of children as we build our schools of excellence. And then it just becomes a heartbreak when it's like, wait a second, that hasn't happened yet."
Listen now:
Subscribe to us on Spotify or iHeart
Watch the conversation:
Content highlights:
[1:21] How Julie got into workplace culture in childcare [6:40] Symptoms of a challenging culture [9:20] Advice for leaders struggling now [13:40] What it feels like to be in a center of excellence [14:00] The ingredients to create your center of excellence [20:20] How to work on quality standards in your childcare business
You may be interested in some of our other content