Compliance and best practice made easy
Go paperless with 1Place Childcare software, so you can standardize process and compliance management in your early learning centers, and make best practice the new standard.
Our cloud-based application improves center and staff performance by making it easy to stay on top of the numerous forms and procedures you complete every day.
Child incident forms, for example, can be completed and signed in the 1Place App by both educators and parents, and emailed to parents immediately.
Our interactive dashboard gives head office management instant visibility on whether centers are meeting requirements, and where any gaps might exist.


Armed with this data and the ability to drill down to areas of concern (via online dashboards), center management can confidently take steps to ensure every center and team member is delivering an exceptional, consistent early learning experience.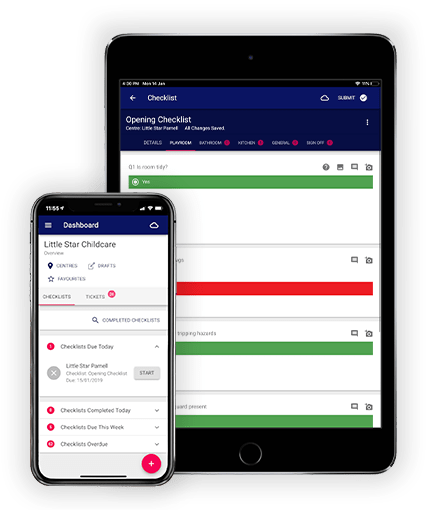 1Place software can help you manage:

Open & Close Checklists

Child Illness & Accident Forms

Learning Environment Audits

Cleaning Schedules

Food Safety

Earthquake & Fire Drills

Excursion Checks

Property Maintenance
How does 1Place Childcare work?
1Place Childcare software consists of four essential tools that work seamlessly together to give your center the data visibility you need to operate smoothly and grow.
Move your childcare checklist forms and processes online, for improved visibility, reduced paper costs, and greater staff retention and productivity.
1Place Childcare can be used on all devices, including phone, tablet, desktop and laptop computers.

Our compliance and best practice software keeps track of every interaction and documents it all in one safe and accessible place.
Keep track of child and employee incidents throughout your centers. With our smart workflow, you can escalate serious injuries to relevant parties.
We make it easy to remove paperwork and maintain best practice across your center with our smart checklists, forms and dashboards.
Through our ticketing system you can set priorities and delegate tasks, so action points are never missed.
1Place has transformed the way we operate. Moving our daily procedural checklists, illness and incident forms online has saved countless staff hours, and means I can act straight away - even if I'm not physically in the building.
Reporting is a tremendous tool for the directors to have, giving us insight into what's happening at any given time across the service.
It's great how the 1Place team can customize and modify the software based on our feedback. They are incredibly responsive and able to cater to our evolving needs. It's a really good partnership.
I love the reports, because you don't know if you're not there. They give you a window into what's happening, which helps us plan and train our staff better.
See how 1Place compliance & best practice software works