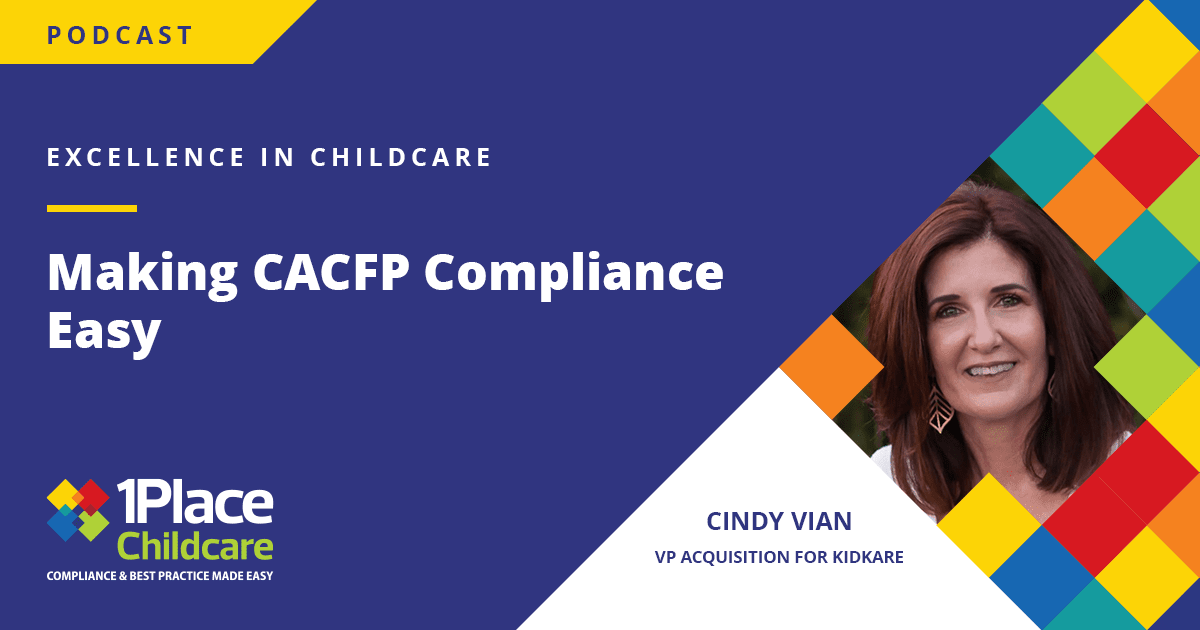 Our topic today is the Child and Adult Care Food Program (CACFP) and our guest expert is Cindy Vian.
Our Expert Cindy Vian
Cindy is a sales and marketing executive currently serving as the Vice President of Acquisition for KidKare (Alpine Software Group), the #1 software solution for daycare management and the child and adult care food program (CACFP).
In this episode we cover:
– Benefits of the Child and Adult Care Food Program
– Where childcare businesses get into trouble with the program.
– Setting up for success
A sneak peak inside the episode
"First and foremost, all of us are very familiar with the National School Lunch Program, but most of America, including parents, providers, childcare advocates, and, and the laypeople out there don't recognize that that program is extended to children in care settings.
So all family childcare providers, and even some unregulated residential relative care providers can access the food program. It is an entitlement program. It does require some paperwork, and what I would tell you is everything in the world involves some type of paperwork… and now that we have technology to do it, you can do it right from your smartphone. "
Listen now:
Subscribe to us on Spotify or iHeart
Watch the conversation:
Content highlights:
[0:50] How Cindy got into early childhood education [3:00] The benefits of and getting started with the program [8:20] Does your childcare business need a commercial kitchen or full time cook? [10:21] Access to the program [13:31] Systems like KidKare solving the administration burden of CACFP [16:50] Avoiding program violations [19:41] Additional KidKare benefits [24:29] 3 tips from Cindy for those struggling in and beyond the pandemic
You may be interested in some of our other content