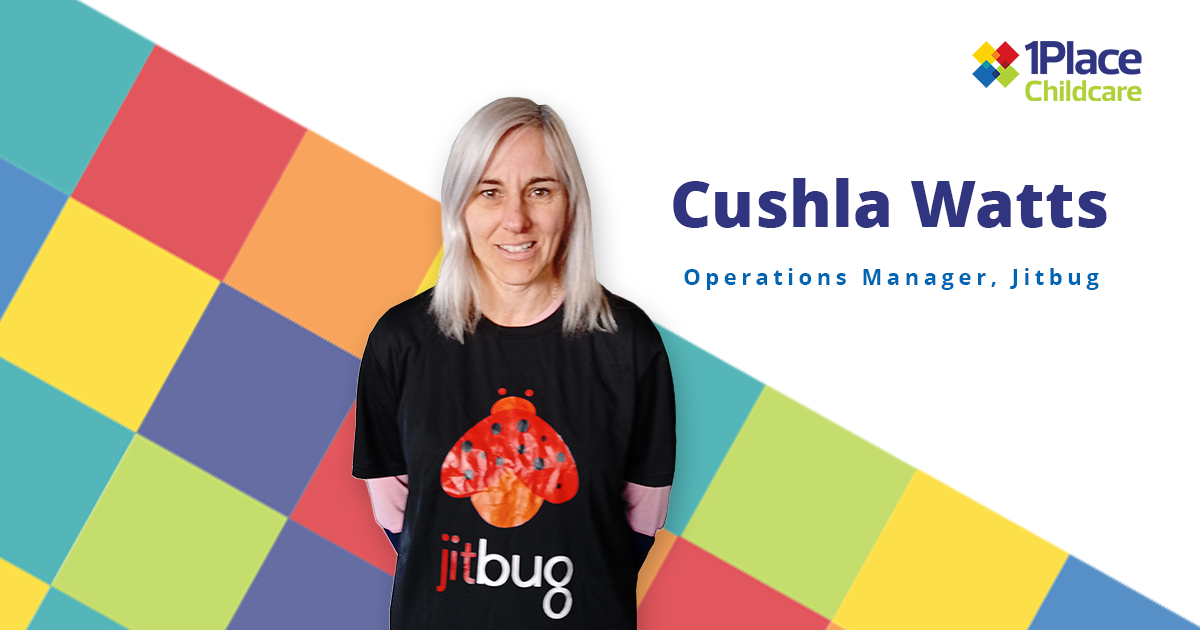 In a recent interview with Cushla Watts, Operations Manager of Jitbug, we explored how their recruitment agency seamlessly connects exceptional ECE teachers and centers, simplifying recruitment processes and revolutionising communication in the Early Childhood Education sector.
What is your current role at Jitbug and how long have you been with them? 
My role at the moment is Operations Manager and I have been with them since January 2022. I started off as an Area Manager for Christchurch as they needed someone to start it here. I employed someone in October last year to take over my role so I could look at extending and supporting the wider team overall. Prior to Jitbug, I was with Au Pair Link and home-based care.
Can you tell me how Jitbug started and what problem were they trying to solve? 
Jitbug was created by Caleb and his wife June. They had a newborn in 2015 and June's mother who was a teacher was helping them out and she was always talking about how difficult it was finding relief teachers and how hard it was phoning different organisations and agencies to arrange relievers. June, being the IT guru jumped on the opportunity and created the app. The original idea was to make it easier for schools – primary and secondary to find relief teachers. They were the first in NZ to develop an app for teacher relieving in schools. They pivoted from schools to early childhood education as the later was facing the largest challenge finding relievers. The original plan was to provide an app for ECE centres to use but then they realised they could help employ relievers as well. It's amazing and very inspiring when the problem actually comes from a challenge that you face within the inner circle of your family itself.
How did the app work? 
There are two sides to the app. There is the centre side where they sign up and search for relievers through our existing pool of candidates. We do all the interviews and all the safety checks you need to meet the Ministry of Education (MOE) requirements and you can view each candidate's profile and all the releveant supporting documents. The centres can also post their available jobs for relievers to select. Many Centres Managers were hesitant to use it in the beginning but once they did, they realised how much easier it was than ringing or emailing an agency. If a staff calls in sick at 10pm, Centre Managers can post the job before they go bed. Sometimes, we have issues with relieving staff cancelling at the last minute but we always jumped in to help. Multiple jobs can be posted by a centre and it can also be planned weeks and months in advance. One interesting feature is 'favourites' where your favourite relieving teachers show up on top of your search list.
On the reliever side, they receive notifications as and when jobs become available. If they are interested, they can accept it or decline it. There is also a chat function which allows the Centre Managers or owners to communicate with the teachers who may have a question or two before they accept the job. Relievers can apply for as many jobs as they want and once the job is accepted, it will clear them out as being unavailable for the others. The can also mark themselves as unavailable so they're not going to get calls at 6am. Relievers can customise their own bio so they can stand out from the crowd. The app is free to download from the app stores on your Android and iOS devices. We charge centres a fee for each reliever placed and a portion of the fees received is our service fee and the rest goes to the reliever.

What sets Jitbug aside apart from traditional recruitment methods in the ECE sector? 
The ease and speed of finding a reliever. We have completely changed how relievers are recruited in the early childhood education industry. The app and platform have allowed vacancies to be advertised and resolved in a very short period. Our seven-point safety check in line with the Vulnerable Children Act 2014, gives centre managers and owners the peace of mind that all compulsory safety checks have been undertaken and all relevant documents have been sighted. We remind Centre Managers to sight 2 identification documents prior to a reliever commencing work at the centre and we remind our relievers to take the 2 compulsory identifications documents they need or else there will not be allowed to work.
What are some of the challenges facing the early childhood industry in New Zealand with regards to teacher recruitment and staff hiring? How has Jitbug help alleviate some of these challenges? 
Teacher shortages is still a recurring problem in the industry. For centres who are finding it difficult to find permanent staff, Jitbug has been a great short-term solution for them. For example, we helped out a couple of centres in Wanaka who needed relievers and we were able to find 3 teachers who were open to working there and have been based there since early this year. We have also been able to bring in teachers from South Africa who meet the teaching qualification requirements to work at centres which have had long term vacancies.
Interestingly enough, we are also finding experienced teachers wanting a break from permanent employment turning to relieving via Jitbug. They just want a change and relieving allows them to work as and when they want to and pick different childcare centres and philosophies to explore. For some who have felt burnt out, the break has been welcoming and reignited their purpose and passion for the work. Some have even found moving out from the bigger cities like Auckland to say Tauranga a welcome change in pace and choose to relocate there. We make it a point to visit the centres who use us regularly, say 2-3 times each year to say hi and see how we can improve on our service. We also try and connect relievers within certain areas so they meet and exchange ideas etc. The feedback we have received from both Centre Managers especially here in Christchurch where I am based has been amazing. We have improved our internal processes and been strict with paperwork that we need to provide for relievers to comply with the Vulnerable Children Act 2014 and we have received very positive feedback on that.
Can you share some success stories or anecdotes from relievers and their experiences?  
Some of our positive feedback from relievers include 'we're really pleased that I've got a new permanent job through Jitbug but sad to be leaving the relieving side', 'I've loved being with you'. It's been wonderful to help people get back to work after having children or being away sick or caring for an elderly parent etc. Having the flexibility to work as and when it suits them is a huge thing. There was one teacher who loved teaching and her sister had cancer so wanted that time to care and support her so Jitbug has been great for her. She's just loved having that flexibility for when she's needed to take her sister to hospital etc. Some mothers want to work around school hours and many centres are now open to that. Some might even just need you to cover lunch breaks.
We also have a sister company called Dynamic and they're based in Northland, Waikato, Tauranga, Rotorua and other regions in the North Island. They were a traditional recruitment company providing relieving in these regions and when they were selling, they came to us so now they are part of Jitbug. It's been wonderful to extend our support outside the bigger cities like Auckland and Hamilton to other regions in the North Island too.
We also support largest groups like Auckland Kindergarten Association with their relieving vacancies.
Any final thoughts? 
We find that people are more open to change when we make the effort to show them how easy it is to use Jitbug. We sit down with managers and show them how to use the app or access it from the website and how you can log in from any device, be a phone, laptop or desktop. We share how we are lifting the burden of finding relievers and safety checking them so they can focus on their kaiako and tamariki. Jitbug stands for Just in Time Bug and that is just want we do. If I had this app when I was a Centre Manager, it would have made my life so much easier. It's just so user friendly and it's been wonderful to see and hear the older teachers learning from the younger teachers how to use it. It's such an easy way of finding relievers rather than getting on the phone to look for one in the morning. My advice to centres would be to try us if you haven't already. You can never have too many options as you never know which might come through for you. We have an amazing team at Jitbug to support you on this journey. To relievers, my advice would be to commit to the jobs you have accepted, don't cancel at the last minute. They best relievers build loyal relationships with their favourite centres.
Explore how Jitbug is changing the game in Early Childhood Education recruitment. Visit their website for more info.
You may be interested in some of our other content