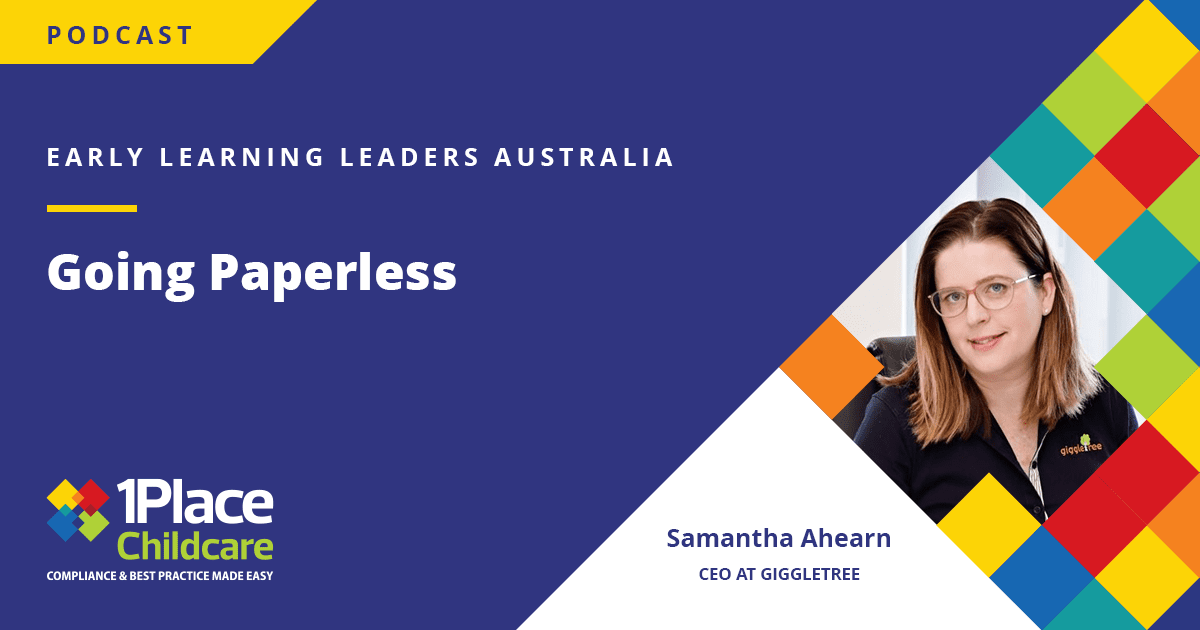 In our latest podcast, we discuss the hows and whys of Going Paperless with entrepreneur and childcare tech consultant Samantha Ahearn.
About our guest:
Samantha founded her consultancy, Giggletree, more than 17 years ago to provide specialised support to Long Day Care and Outside School Hours Care services. She's a passionate entrepreneur who has been working in the industry for over 24 years.
Early in her career she was instrumental in the founding, development, support and training of QikKids, now known as one of the most widely used software packages for childcare services in Australia.
In this episode we cover:
– The 'current state' of paperless workflows in our sector
– Which parts of your service benefit most from going paperless
– Choosing the right systems and devices for your workplace
– Advice for centres getting started on their paperless journey
Our quote of the episode:
"If an assessor comes out, you can tell them all these things you do. But if you don't have the proof … then it doesn't correspond with your assessment and ratings. So if you've got proof that there's constant communication going, which is on these digital platforms, it makes life much easier than pieces of paper here, there and everywhere."
Listen now on your preferred platform:
Subscribe to us on Spotify or iHeart
Watch the conversation:
Content highlights:
[02:17] Parents' expectations and uptake of digital tools
[03:55] Supporting your NQF and other reporting needs
[05:29] Trend spotting with your own real-time data
[06:31] Safety and risk management benefits
[12:05] Benefits for onboarding new staff
[21:17] Bringing staff and families on the paperless journey
[25:41] Advice for getting started