Kidz, Ink Academy of Early Academics is a network of learning centers in Delaware that aims to prepare young children for kindergarten.
The academy, founded by President Aretha Kitson and her husband Phil over 20 years ago, strives to offer an elite program that is affordable and flexible for all work schedules. With a current enrollment of 700 students and 110 staff members across five centers in Bear, Dover, and Smyrna, Kidz, Ink has plans for expansion. However, the traditional compliance management processes they were using had become inefficient and costly to maintain.
Childcare compliance made easy
In the past, Kidz, Ink relied on paper forms for various compliance checks at each center. These forms were becoming burdensome, and Aretha found herself constantly reordering expensive carbon-copy forms. Additionally, maintenance issues were logged in binders and had to wait for the organization's maintenance person to visit the centers for resolution. There was often confusion regarding the urgency of issues, leading to delays in repairs. Aretha realized that a more streamlined and cost-effective solution was necessary.
To address these challenges, Kidz, Ink implemented 1Place's online compliance software in each of its learning centers. The software enabled staff at different levels of the organization, including teachers, maintenance personnel, curriculum coordinators, and executive management, to carry out daily closing and cleaning procedures, monthly curriculum and administration checks, and other compliance tasks such as fire drills and lock-down procedures. The software's tiered user access ensured that Aretha only received high-level alerts and organization-wide reports, while the center directors received notifications specific to their centers.
Identifying trends through 1Place reporting
The software's features greatly improved maintenance issue management. When a maintenance issue is identified during a regular check, staff members are prompted to log a ticket with all the relevant details and include a photo. This ticket is then emailed immediately to the maintenance person, who can assess the level of urgency based on staff input. The photo feature provides a clear visual representation of the issue, facilitating quicker and more accurate resolution. The ticket is also used to document the issue's resolution, serving as a record for future reference.
1Place's software also facilitated the logging of injuries that occurred within the centers. Staff members were prompted to include details such as the time of the incident and the affected body part. The center director would receive an instant notification, and parents would sign off on the incident through the app before receiving a summary via email. The software's ability to generate consolidated reports on injuries across the organization on a weekly basis provided Aretha with valuable data that she had never seen before. It allowed her to identify trends and pinpoint areas where incidents were more frequent, enabling her to take proactive measures to enhance safety.
Compliance beyond licencing requirements
Beyond compliance requirements, Kidz, Ink is committed to preparing children for kindergarten. They utilize a curriculum called Core Knowledge and aim to have children reading or at least 90% ready for kindergarten. The academy is also a five-star provider within the Delaware Stars for Early Success program, which is the state's Quality Rating and Improvement System (QRIS) for early care and education programs. Achieving a five-star rating requires meeting specific criteria and demonstrating ongoing commitment to high-quality childcare.
To meet the requirements of the Delaware Stars program and maintain their five-star rating, Kidz, Ink plans to incorporate classroom observations into their 1Place software. This integration will enable their curriculum coordinators to efficiently assess classroom environments and automatically record the data. Aretha believes that 1Place will not only help them meet licensing requirements but also sustain their high-quality standards.
By implementing 1Place's software, Kidz, Ink has gained efficiencies that allow their staff to dedicate more time to student engagement. The software has also empowered center directors to spend additional time mentoring their teachers, further enhancing the learning experience provided by Kidz, Ink Academy of Early Academics.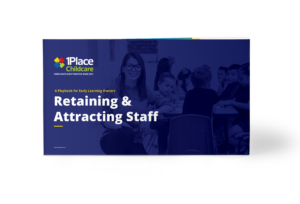 FREE Download: A Playbook for Early Learning Owners
Retaining & Attracting Staff
We know that being understaffed can have a significant impact on your business. It can lead to reduced capacity, and revenue, and ultimately affect the quality of care that you provide to children. That's why we've put together a playbook, with leaders in the sector, that provides you with actionable advice.